;
All you need to know about St. Barts
16-Mar-2021
On many occasions, we've talked about the island, about how beautiful it is and how revitalizing a St. Barts vacation can be. You can find more practical facts about your next St Barts trip just right here.
What currency will you need? Which set of clothing is better? When should you visit? What's St. Barts weather like? All these questions are normal when preparing for a trip, and honestly, who better to answer than the locals? That's why here you'll find everything you need to know about the island.

St. Barts: a brief History
Originally, the island was frequented by the Arawak and the Taíno, two groups of indigenous peoples that historically lived in the Greater Antilles and northern Lesser Antilles in the Caribbean –the region where St. Barts is located. "Frequented" because historians think that it was highly unlikely for them to inhabit it, since the island's soil is not particularly good for agriculture.
However, in 1943, when Christopher Columbus discovered the island, he didn't encounter the Arawak or the Taíno, but the Caribs. Historical records show that, after that, the island was continuously visited by the Europeans, before formal colonization took place. The island as it is, was named after Christopher Columbus brother, Bartolomeo.
By the 17th century, the island was settled by the French and tested for certain businesses and trades, but proven to be financially unsuccessful. That's why, later on, under a British administration in the 18th century, it was subjected to piracy. For the first half of the century, approximately, until its administration was traded to Sweden and later, in the 19th century, back to France. These many influences can be seen in the island architecture, in its commercial buildings, the church and many of the St. Barts hotels.
Nowadays, the island is a well-known, breathtaking touristic destination, preferred by many to visit when in need of a revitalizing escapade, a holiday close to nature: a true St. Barts vacation.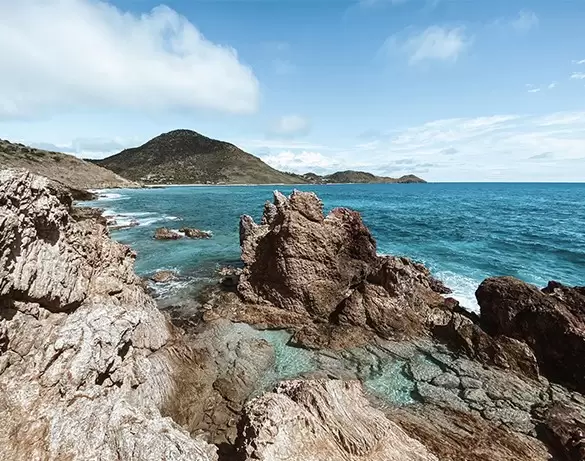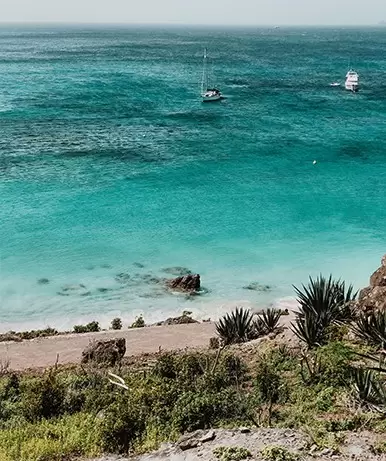 Things to know about St. Barts
As you already know, St. Barts is an overseas collectivity of France, situated in the West Indies arc. As such, its official currency is Euros. So, if you're visiting from any European country that also uses Euros, you're by default in the clear. If not, don't worry! There are plenty of money exchange points on the island, where you'll be able to change your money into local currency.
Its location in the Caribbean means "tropical", and as such, St. Barts weather is warm. Its temperature is around 30ºC through the year, and since it's surrounded by water, it is pretty humid. Light clothes are a good choice, when preparing your luggage. Shorts, tank tops, light dresses and of course, hats and caps to protect yourself from the sun. These climate conditions tend to remain around the same, even during winter or the rainy seasons.
During the hurricane season, however, tropical storms and typhoons are likely to make an appearance –that's why Le Barth reopens after it has passed, by the end of October every year. Undoubtedly, the best time to enjoy a St. Barts vacation would be around Easter, when it's not summer yet, but we still can enjoy the weather and spend every day at the beach.
As an extra detail, the island also has some of the best resorts worldwide. St. Barts hotels are considered amongst the best places to stay. Just here, at Le Barth, we've been recognized as the best hotel in the Caribbean by Condé Nast Traveler and the best hotel in St. Barts by Travel + Leisure, amongst many other awards –not that we like to brag.
Things to do in St. Barts
You probably already guessed it, but with St. Barts weather being tropical, and with its blessed location, the island has vibrant, colorful nature all around. There are breathtaking landscapes wherever you look, and marine fauna is abundant through the year.
Amongst the things to do in St. Barts, you can find something for everyone. Whether you're more of an explorer and want to discover the island, or your goal is to sit back and enjoy a relaxing escapade to paradise, you'll find something for you.
For one, the island has many beautiful beaches, with clean, sparkling blue water and soft, warm sand for you to walk for miles, to indulge in the sound of the soft waves crashing on the shore. Either plan your day ahead, or trust our Haute Couture Concierge at Le Barth to deliver 5 wonderful days in paradise.
If you're more of an animal lover kind of person, you're in for a treat. You'll definitely love going for a swim, either snorkeling or with sea bobs. You may also like our glass bottom kayaks, ready for you to explore while navigating around on the beach. All these options are available at Le Barth, one of the best St. Barts hotels.
There's also the capital city: Gustavia. A must-visit for those who love to shop in style and delight themselves with the vibrant lifestyle of the island. There are gastronomic options all around and, of course, a wide offer when it comes to nightlife.
So now you know! Not only about all the things to do in St. Barts, but also the things you need to know in order to visit. And now that you know, we hope to see you soon!
More blogs.
All
Our Island
Our Hotel
Our Collection
Events