;
Tales of Excellence
15-Jun-2021
Here at Le Barthélemy, excellence is our flag. We pride ourselves in our unique service and endless ability to impress, our attention to detail and service-oriented attitude.
But, of course, we understand it's not the same if we're the ones telling you about our greatness. We may be bluffing (we're not) or have a commercial agenda (we don't), but that's why we want for you to hear it from someone else. So here, through these Le Barthélemy hotel reviews, we want you to connect with the stories you hear about us, to feel them as your own.
So, follow us on this collection of Tales of Excellence, this recollection of various St. Barts vacation stories and see Le Barth through new eyes.

First time away in a pandemic
"Not enough space here to sing the praises of the staff and resort.
Traveling during the pandemic came with a whole lot of questions and requirements, but everyone at Le Barthélemy was so helpful. From the roughly a hundred emails prior to our trip working out details to the arrival, to the arrival, and treatment once there, it was truly exceptional service.
I happen to be lacto-ovo vegetarian and there were many options for all meals, and in fact, they even ordered impossible burgers as a no meat option for me. My husband and I opted to eat some meals on our balcony and the food was always delivered promptly and with care. The service in the restaurant was fantastic and would like to provide a shout out to the sommelier, Quinten. Thanks for the great conversation and sharing of your knowledge.
Additionally, if you would like to meet one of the hardest working staff members I have ever met, Amanzolou (likely butchering her name spelling) was beyond friendly, fast, and we couldn't stop commenting about how quickly she moved about ensuring everyone was happy and had what they needed.
There were so many other great staff as well, we only wish we got everyone's name.
The resort was clean and use of masks were required in some areas, but it truly didn't detract from our stay. With so many requirements for travel to St Barths, just knowing that many people there are vaccinated, tested prior to arrival and before leaving made it all seem like travel before the world turned upside down.
I very rarely recommend places because one person's opinion likely doesn't mean much, but as someone who travels all over the world staying in 5-star places, I would highly recommend this resort and St Barths. I'm a firm believer that you pay for what you get, and paying a little more gets you a great trip if you choose to stay here."
We are, of course, delighted to know that all our efforts to provide a safe and unique stay have delivered accordingly, and that our dedicated team has made such an impression, as stated in this Le Barthélemy hotel review.
It's our pride and joy to provide an experience that won't be forgotten. To be able to deliver a unique St. Barts vacation is our main goal.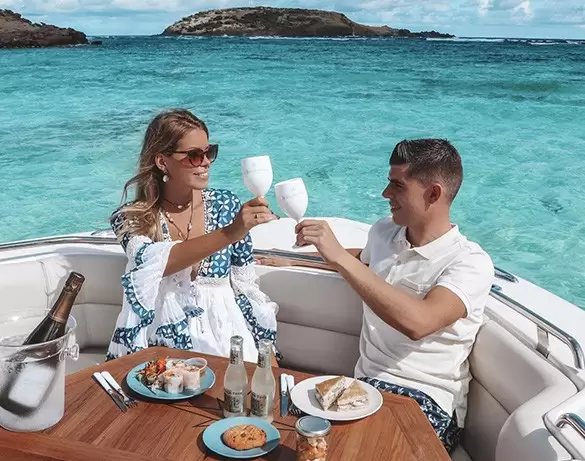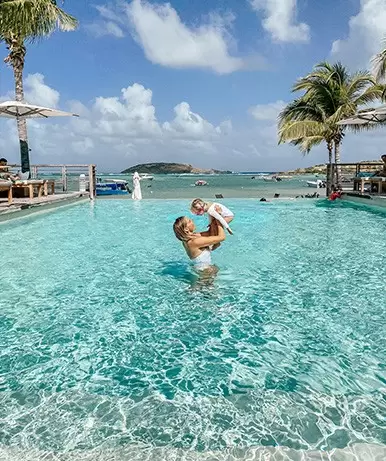 Exemplary 5-star service
"My wife and I feel we are both well traveled enough, with plenty of experiences in luxury boutique properties, and 5-star Flagship hotels, to adequately measure a 5-star property and its accompanying service. Le Barthélemy unequivocally lived up to its reputation of an exceptional, distinct, and refined class of service.
We just returned from a one week stay in an Ocean Lux suite with our almost 2-year old daughter. Here is a First Class example of their attention to detail. We arrived in our room to not only find a crib perfectly bedded and situated next to our king bed, but an elevated changing table in the bathroom, with baby products and amenities, complete with a "Sophie" giraffe, and a welcome card for our daughter.
Every morning at breakfast, the staff couldn't have been more accommodating, especially with our daughter. On a few occasions, per their inquiry, and our request, they had a cottage cheese bowl prepared with fresh berries for her. They were always refilling her milk cup, and had a high chair set up instantly every morning we arrived.
The remarkable 5-star Service was always followed by two words: "Right Away." We can't begin to remember every individual, but certainly can recall Leo and Charles from the concierge. Thomas from our pickup and departure had a warm and welcoming smile. Rafael and Amandine were exceptional beachside and poolside. Junie and Kevin at the restaurant were very attentive! We were really able to relax and unwind with plenty of pool time for our little one.
The rooms are spacious, but cozy, with a sophisticated decor. The entire property grounds are meticulously maintained. I must mention, that even though this property is classy and well-designed for couples looking for a respite from their busy lives, it is definitely family friendly. Merci pour tout Le Barth!"
Merci a vous! Thank you for giving us the opportunity to share the beginning of wanderlust. Love for traveling and exquisite taste for the most unique things in life are acquired through experience. That's why teaching kids to treat themselves, to recognize a high-end service and enjoy a once-in-a-lifetime St. Barts vacation is something we've also vowed ourselves to do.
Perfection in paradise
"My wife and I truly enjoyed our stay. From the Beautiful and well-designed Beachfront Hotel to the Magnificent Lagoon, Le Barthélemy is truly perfect.
The food and dinning experience was exquisite. We enjoyed the daily breakfast as well as lunch and dinners at Aux Amis.
The heart of Le Barthélemy is its incredible staff. They provide the life, energy, and love that all guests feel while staying at the hotel. Their friendly nature and genuine care allowed us to create real connections and friendships with the staff that were so meaningful to us. One of the biggest draws to retuning to Le Barthélemy is the chance to see these wonderful people again. We hope to return soon!
Thank you, Le Barthelemy for all the hard work that goes in to creating an atmosphere of Love and paradise on the greatest Island in the world."
Just like these stories, there are many more. We encourage you to discover them, but even more so, we encourage you create your own Le Barthélemy hotel review… to discover your very own Tale of Excellence.
More blogs.
All
Our Island
Our Hotel
Our Collection
Events